GPC "First Friday" Newsletter – June 2019
"Those nations who bless Israel will be blessed and those nations who curse Israel, will be cursed…" (Gen. 12,3)
This spring has been an unusual spring in many ways from the GPC perspective: Quite intensive and multifaceted:
Intense spring 2019 for Israel and GPC …
In April, elections took place in Israel. And surrounding the elections and the spring holidays, Israel suffered massive attacks from the south (Gaza). Early May we had our GPC conference in San Remo, Italy. Mid-May I was invited by the White House Council (US) and the Latino Coalition for Israel (Central-/South America) to celebrate with Israel and with those two groups of leaders the 1 year anniversary of the move of the US and Guatemalan embassies (photo). And now I am here in Israel for the Jerusalem Prayer Breakfast celebrating 52 years of reunification of Jerusalem (June 4-6), followed by the Global Prayer Call Conference (June 7-9) at Succat Hallel (the 24/7 House of Worship and Prayer across from the Temple Mount).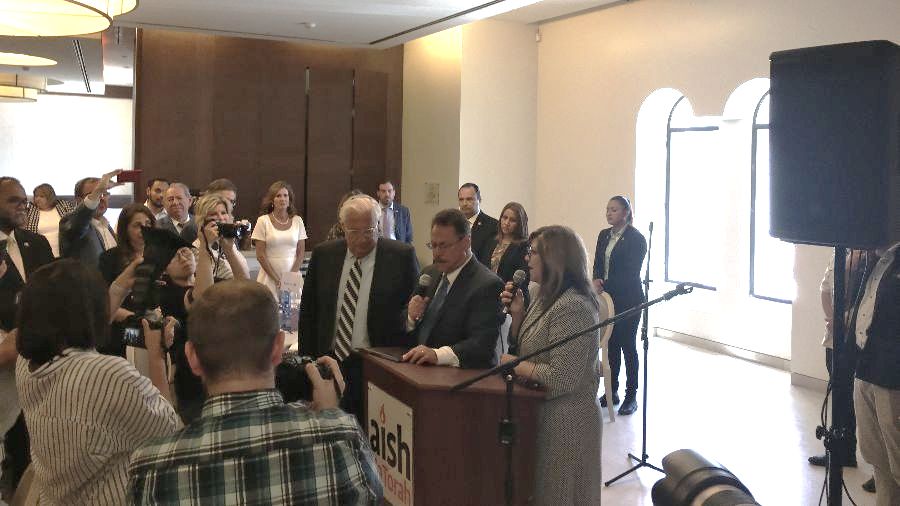 … and for the nations regarding Jerusalem
In the midst of all these developments, the nations are struggling to find their position regarding Jerusalem - with some good news along the way. A few months before the EU elections, Romania announced their decision to move their embassy from Tel Aviv to Jerusalem. In the context of   celebrating 71 years of the modern State of Israel, Israel and Uganda have announced that they will be establishing their embassies in one another's nations: Israel in Kampala, the capital city of Uganda, and Uganda in Jerusalem, the capital city of Israel! A number of nations in Africa, South America, Europe and other parts of the world are considering similar moves. This will be a major prayer topic at our GPC conference this week in Jerusalem from June, 7-9. We will also be praying into the Middle East situation, the Iran deal, Syria and for some other major nations like China and Russia. I want to encourage you to hold these topics up in prayer wherever you may gather to pray on this First Friday – as I know a number of you do. Just a few weeks ago, a couple from Fiji told me that since I visited them more than 4 years ago they meet every First Friday to watch the video clip, read the Newsletter and pray accordingly! Isn't that great? (Greetings to Fiji!) I trust I will be able to send you more in-depth information concerning some of those topics after the prayer conference.
New elections in Israel
As most of you will know, IL Prime Minister Netanyahu was not able to form a new coalition government after the elections in April. Now there will be new elections in Israel in September. This is the first time in modern history that Israel has faced such a situation. Of course this is a huge challenge, both for the political elite in Israel as well as for the nation as a whole. Israel needs a special prayer of covering and protection in these months!
Prayer for GPC and the First Friday Clip
With all of these dynamic developments, my personal question is: "Lord, how do want to continue to develop GPC?" This year 2019 will be a very special year of discerning and implementing (!) crucial decisions about how to move forward. The three main prayer topics in my mind are:
Consultation and Leadership
Content and Communication
Human and Financial Resources
I shared a bit more about these topics at the San Remo Conference in early May. This portion was filmed. I am happy to be able to share it with you as my First Friday clip for June 2019. I would appreciate your prayers regarding those topics.

One more thing: If you feel that the Lord wants you to pray for GPC as a ministry on a regular basis, please let me know. I will be glad to share relevant prayer topics with you. Please write to me at This email address is being protected from spambots. You need JavaScript enabled to view it.

May the Lord bless you as you pray for Israel, for your nation and for other nations which the Lord puts on your heart. Let us also continue to pray that the "royal priesthood" in our nations and around the world would come together, strengthen and lift each other up for such a time as this as the nations are moving towards the valley of decision (Joel 3).

Grace and blessings to you!
From the City of the Great King!

Harald Eckert, Founder of the Global Prayer Call