Celebrating the 68th anniversary of the rebirth of Israel with the First Lady of Uganda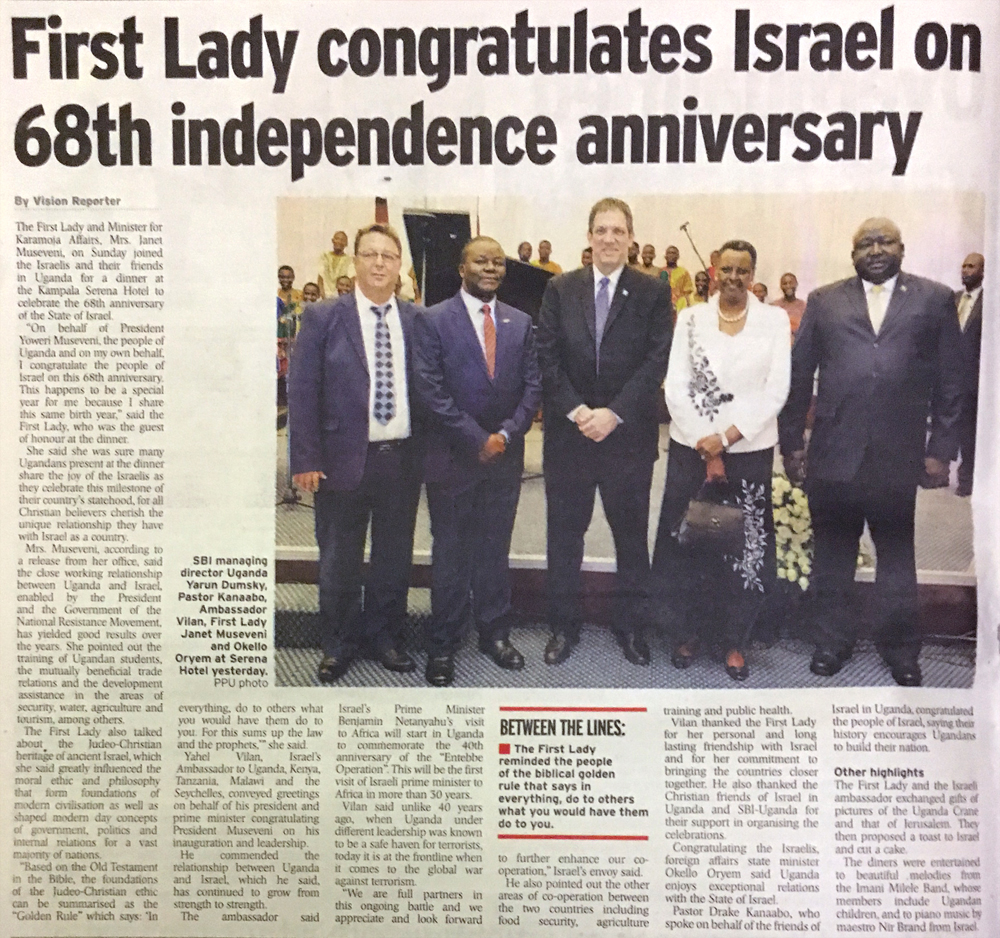 In a way, the conference kicked off the Sunday before it actually began: Drake Kanaabo, Chairman of Christians for Israel, Uganda, invited the Israeli ambassador to Kenya (also responsible for Uganda), the First Lady of Uganda, the Foreign Minister of Uganda and diplomats from about 50 diplomatic missions to Uganda for an evening event celebrating the 68th anniversary of the rebirth of the state of Israel.
A few days later, just as the conference began, the major national newspaper of Uganda dedicated nearly a full page to this event. Reading Genesis 12,3 - where God promises blessing to the nations that bless Israel and calls Israel to be a blessing to all nations - in combination with this newspaper article, in which the Israeli ambassador publicly described the Uganda-Israeli relationship as growing "from strength to strength", was the perfect beginning for the conference. It was clear that Uganda is recognized and honored as a "role model" and example for many other African nations. It was also a great encouragement to the praying church in Uganda to continue to pray for good Ugandan-Israeli relations - even as the next highlight of this relationship comes into view. Israeli Prime Minister Netanyahu is planning to visit Uganda in July of this year to commemorate the 40th anniversary of the Entebbe rescue operation where his brother was killed in action. But his death was not in vain. The Israeli hostages were rescued out of the hands of the terrorists and the terror-supporting regime of Idi Amin. How Uganda has changed over those 40 years by the grace of God!