10 Days of Awe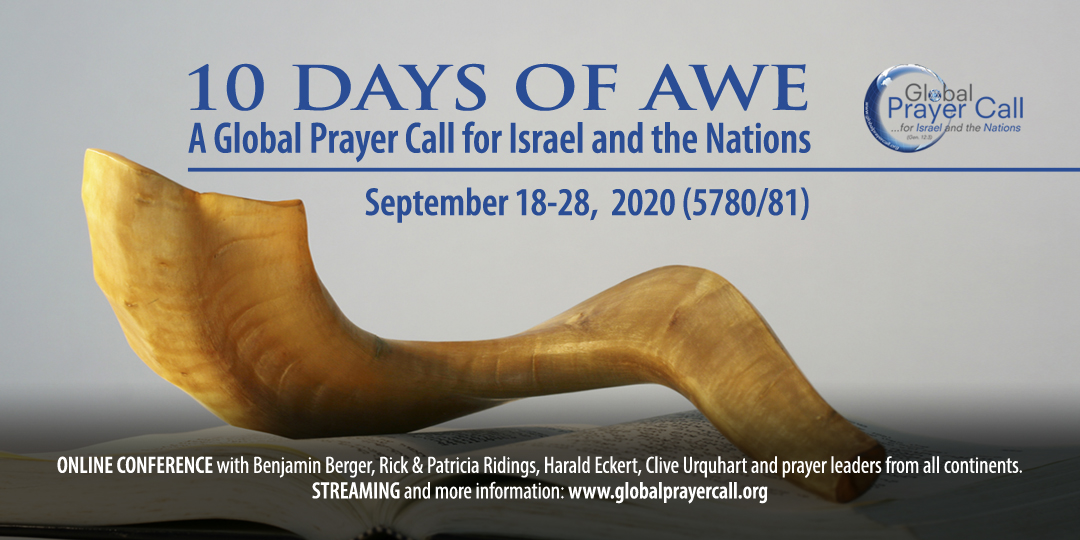 About the Event
Through the Jewish calendar and the biblical feasts, the Lord provides a deeply meaningful and precious opportunity for both the Jewish people and the body of Christ to humble ourselves before Him - the creator, judge and redeemer. As GPC, we want to invite you to use this opportunity personally as well as in your priestly calling as you reflect – as a representative of the royal priesthood (1 Pet 2,9) - on the relationship between your nation and Israel. In this unique season of world events, let us put these 10 days of awe to effective use in 2020! Let us use this opportunity to reflect, research and repent for our nations as an expression of the global intercessory body of Christ and ask for HIS redemption and forgiveness for the failings of our nations in their relationship with the Jewish people and the nation of Israel - past and present. 
In preparation for these upcoming 10 days and this GPC prayer call, we have asked messianic pastor and bible teacher (Jerusalem) Benjamin Berger to explain to us, as Christians who pray for Israel and our own nations, some of the biblical and prophetic significance of the biblical feasts in general and Rosh Hashanah, 10 Days of Awe and Yom Kippur in specific. He closes his teaching with the following words:
"Celebrating the feast of trumpets today in this year 2020 is a year of crisis, it is a crisis that affects us on a global scale. It began with the corona pandemic and the lockdown. It has also brought the world into a very dangerous economic situation but above and beyond all of these things, we are living in a time of a complete moral breakdown, a departure from the faith in Jesus and the further development of globalism which includes the idea of one world religion and which is leading us into the time when the antichrist and the antichrist system will be established as the Bible tells us.
The Spirit of God is calling us as his priestly people to stand before him, clothed in his righteousness and entering into the holy place behind the veil, to intercede and to cry out for mercy for Israel and for the nations. Sin abounds in Israel and sin abounds in the nations. The United States of America, the bastion of western democracy, hangs in the balance. If America should fall so will Europe and other nations. We are standing on the dividing line, let us not deceive ourselves. The angels are sounding the heavenly trumpets, calling the people of God together. Let us not miss this moment of opportunity and of urgency and let us fulfill our priestly calling as we approach "The Feast of Trumpets" and the "Ten Days of Awe!"
For the full article, please click here.